Play 'n' Practice included a brand new logbook feature showing all events within a calendar view. Whether you want to have a review on your practice sessions, your playing times or notes you've taken, you will get that overview within the logbook page of Play 'n' Practice.
The calendar can be toggled between monthly, yearly and decade view by tapping on the header. Tapping the arrow buttons navigates the view to the next or the previous period. To show events occurred during a specific day tap on the related date in the calendar view. The dots shows which kind of event occurred on that day, a brown dot (●) stays for a workout event, a blue dot (●) represents playing times while white dots (○) show that a note has been added that day.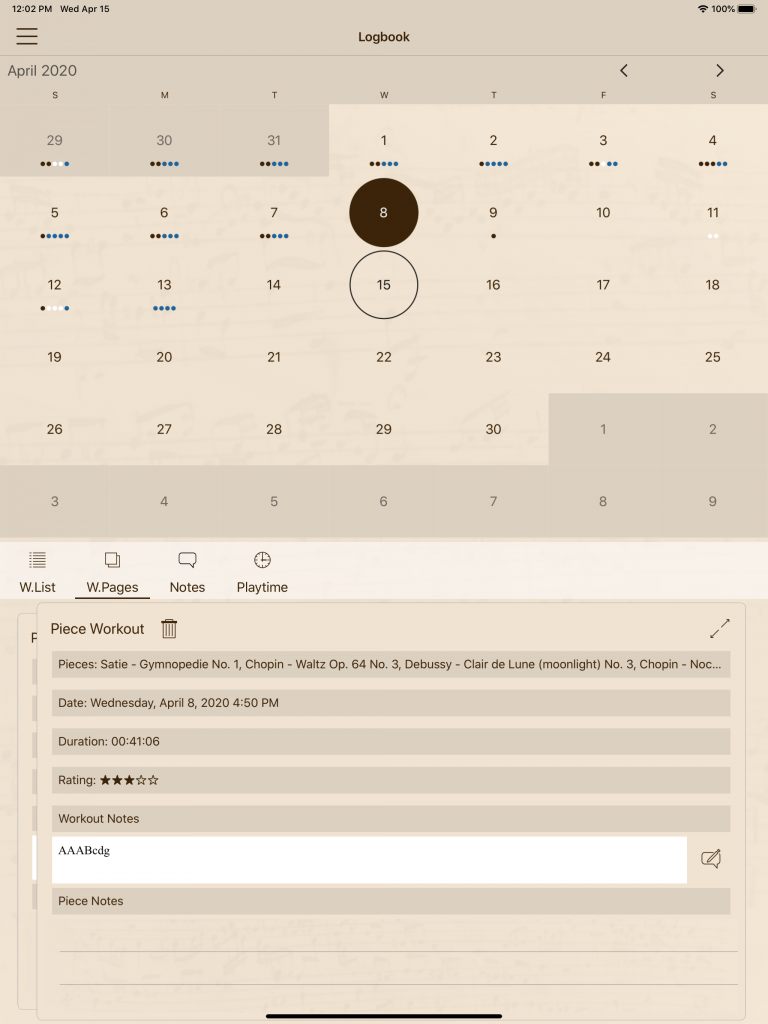 Once a calendar date has been selected, all events occurred that day are shown in the view below, depending on your selection. The W.List entry shows a list of all workouts occurred that day, you may tap on a list item to edit the details, add a rating or a note to the related workout, you may delete a workout by swiping the item to the left and tapping on the corresponding delete button.
The W.Page view shows workouts as pages with a little more information on the overview. Here you can also see a list of pieces played and the workout related notes. You can edit the notes by tapping on the note edit button

, tapping on the expand button

opens the workout detail view.
The Notes view shows all piece related notes created on the selected date, every individual note shows information about the time it was created, the related piece and workout (if available). You can edit or delete notes directly from this view by tapping on the corresponding button.
The Playtime view show all playing time entries for the selected date. You can edit entries by tapping on an item or delete the entry by swiping the item to the left and tapping on the delete button.
The logbook is the best place in the app to get a comprehensive overview about your practice history. Also it is the place to review your notes in general. The logbook is thought to give you a chronological overview about everything you've done with Play 'n' Practice.